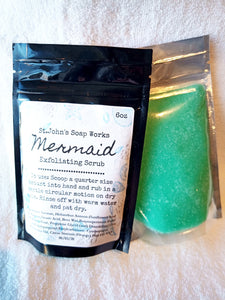 Mermaid Body Scrub
Regular price $10.00 Sale
Mermaid: Mix of lemongrass and sweet orange essential oil.
Our Emulsified Scrubs smell amazing while exfoliating dry skin leaving you smooth and moisturized. Our Emulsified Scrubs convert to lotion when washed off so none of that greasy residue. 6oz bags.
To use: Scoop a quarter size amount into hand and rub in a gentle circular motion on dry skin. Rinse off with warm water and pat dry.
Ingredients: Sucrose, Helianthus Annuus (Sunflower) Seed Oil. Polowax,Stearic Acid, Bees Wax,Butyrospermum Parkii (Shea Butter) Fruit, Propylene Glycol (and) Diazolidinyl Urea (and) Iodopropynyl Butylcarbamate. Fragrance