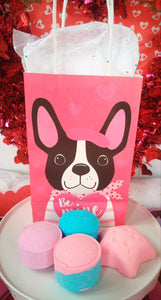 Valentines Bath Treat Bag
Regular price $30.00 Sale
Our Valentine's treat bags are a cute way to say you care! They come with a mix of different bath bombs, quantity depending on price. A $10 bag will have $15 worth of bombs included. A $20 bag will have $25 worth of bombs included. Bombs will be a mix of regular and mini bombs. Specific bombs will vary.
Each gift set comes bagged as described and tagged with Happy Valentine's Day. To add custom note please email with order number and note to stjohnssoapworks@gmail.com
With the home delivery option giving gifts could never be easier.
Please choose price from drop down menu. Specific bag/wrapping may vary depending on demand but will remain Valentine's themed.